Pupils starting the new school year will no doubt find the learning environment very different to how they left it back in March.
COVID-19 has introduced a new and largely unknown risk to the workplace, and like other settings, schools have spent months implementing heightened health and safety measures to reduce the risk of infection.
Re-opening schools has greatly divided opinion about whether it can be done safely. However, while the UK is taking its first tentative steps back into education, schools successfully re-opened months ago in several European countries, including Denmark and Germany.
With the need for schools to continually refine their controls in order to prevent an outbreak, we look at some of the key health and safety measures being adopted elsewhere.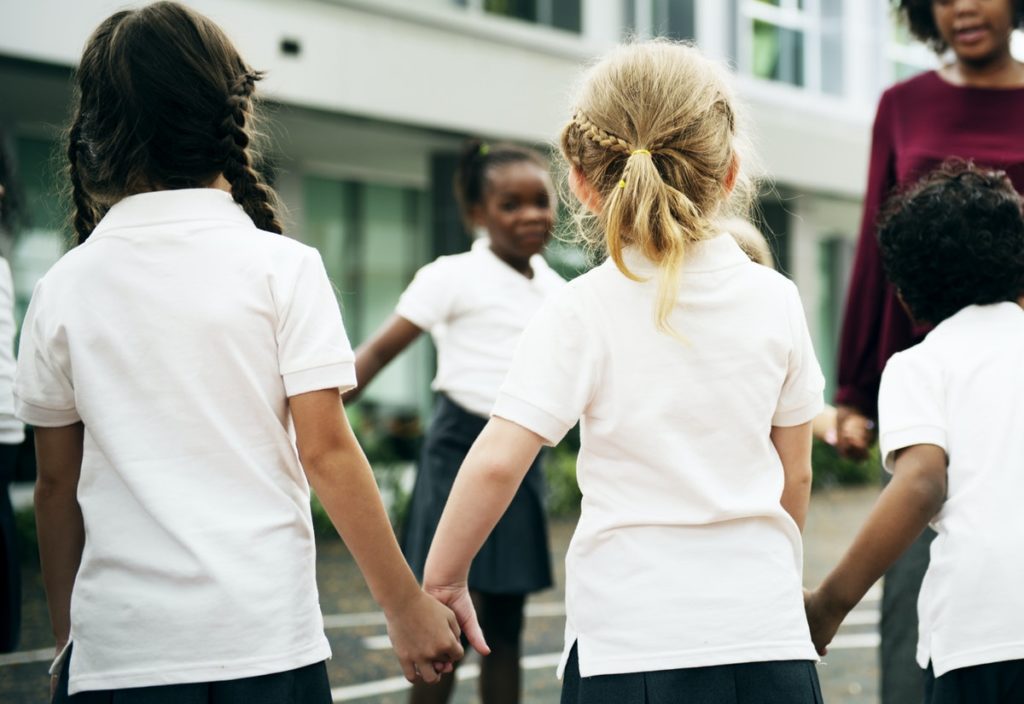 The UK government has said it wants schools to minimise contact between individuals and maintain social distancing wherever possible. UK schools are to closely follow Denmark's safety approach, which assumes younger children can't be relied on to social distance. Instead, children are organised in small groups all day – staying in so-called "protective bubbles".
Keeping children in small groups has meant Danish pupils have as little contact with others as possible – their school day is spent in a kind of virtual cocoon, with no cross-over with others.
There are typically about a dozen pupils in each micro-group. Social distancing means that's about the maximum number who can enter a room.
2. Staggered starts and breaks
In Denmark, these micro-groups of pupils arrive at different times, eat their lunch separately, stay in their own playground zones and tend to be taught by a single teacher.
In secondary schools, where pupils normally go to subject-specialist teachers' classrooms, groups have more consistently been kept together by trading off some subject-specific learning for greater safety.
Rather than crowded corridors as pupils migrate between lessons, staff are the ones now having to change classrooms. 
Regular handwashing and sterilising has been another lynchpin of the Danish approach. Similarly, Germany's measures include:
Ida Storm Jansen, an administrator at Copenhagen's International School, says the system of isolating small groups of children is more practical than only relying on social distancing. She suggests "Frankly it's impossible. When they play, of course they forget". However, with constant handwashing and minimal contact with any other group, she says there is an effective system and that children have adapted to it very quickly.
Enhanced cleaning of surfaces after the school day is another vital element of healthy hygiene habits at school.
4. Face coverings
Interestingly, Europe also hasn't adopted a policy that face coverings be worn in schools. Neither Danish pupils or teachers wear face masks. Dorte Lange, vice president of the Danish Union of Teachers, says this lack of personal protection hasn't been an issue as the strategy following medical advice has been to:
In Germany, pupils are required to wear face masks in communal areas. The UK government's initial stance was that face coverings are not necessary in education settings, leaving schools with the discretion to require face coverings in communal areas if they believe it's right in their particular circumstances. However, in belatedly revised rules:
In Scotland, secondary school pupils and staff now have to wear masks when moving around school, in corridors and communal areas where physical distancing is difficult to achieve.
In England, secondary school pupils and staff are to wear face masks in locally locked-down areas.
In other parts of the UK, headteachers remain free to choose whether they want masks to be worn in school. Government guidance does say "it will not usually be necessary" to wear masks in classrooms, where protective measures mean the risks are lower.
Schools in Europe have adopted one-way systems and social distancing markers in much the same way as UK supermarkets.
School infrastructure is used to help facilitate both physical distancing and hygiene protocols. For instance, designated entrances and exits for different student cohorts, sectioned off common spaces, and floor markings directing foot-traffic flow, all help pupils and staff to maintain distance. Similarly, portable hand sanitising stations are placed at entrances and common areas to promote regular hygiene.
In stereotypical Teutonic efficiency, when some schools opened in Germany, the level of detail went down to individual seating plans. Shaun Roberts, principal of the Cologne International School, says each student has a fixed place; that way, if someone is found to have contracted the virus, contact tracers know exactly who has been sitting in close proximity to the infected individual.
Speaking on schools' "journey back to normality", Mr Roberts says: "People do what they have to do without making a fuss but it isn't business as usual". Evidently, the UK is still some way behind the likes of Denmark and Germany in its journey, though the lessons learned from Europe may offer inspiration as school leaders navigate the unknown.
Keep your school staffed and secure with our specialist support
In need of specialist advice and guidance to help you maintain compliance, mitigate risk and manage your workforce?
Our Employment Law and Health & Safety specialists are currently supporting UK education providers through their Autumn term challenges, from overcoming employee absence to implementing robust safety arrangements and adjusting to ever-evolving government guidance.
To find out how our tailored, fixed-fee service can meet your specific needs, call 0345 226 8393 or visit our free Coronavirus Advice Hub for more education-specific guidance and resources.